USUA Members Interviewed for Reuters Article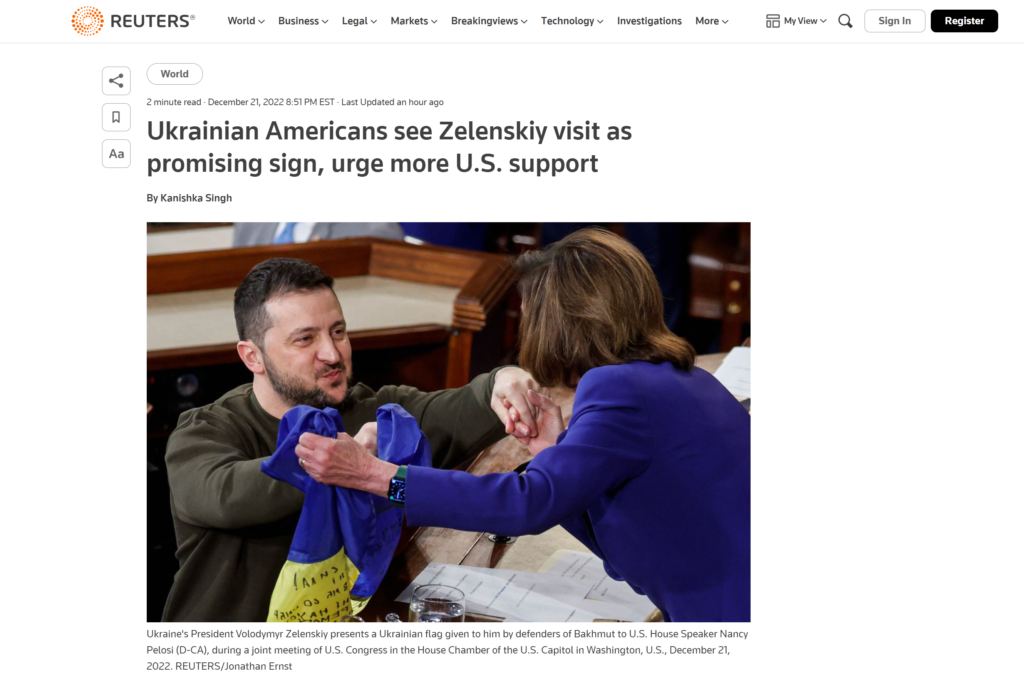 Source: Reuters
Date: Published 2022.12.21 (Wednesday, December 21, 2022)
Members of US Ukrainian Activists were interviewed for a Reuters article, during President Zelensky's state visit to Washington DC:
WASHINGTON, Dec 21 (Reuters) – Ukrainian Americans in Washington saw President Volodymyr Zelenskiy's U.S. visit as a promising sign that displayed strong relations between the countries but also urged more American assistance to defend against the Russian invasion.

Dozens of pro-Ukrainian activists gathered near the White House on Wednesday afternoon as Zelenskiy visited Washington for his first publicly known foreign trip since Russia's invasion on Feb. 24. The group called "U.S. Ukrainian Activists" then headed to the U.S. Capitol for Zelenskiy's address to the Congress. […]

"In the long term, helping Ukraine will enable the U.S. to preserve national security," Catherine Pedersen, a board member of the U.S. Ukrainian Activists group, told Reuters. "It's that awkward situation where you are incredibly grateful for (U.S.) support, but there is need for more," she added.
Thank you to members Catherine Pedersen, Oleksandra Kepple, and Katrina Durbak for representing our organization, and the Ukrainian Diaspora, to the media!