Alina Cherkasova Charity Concert – 2022/10/01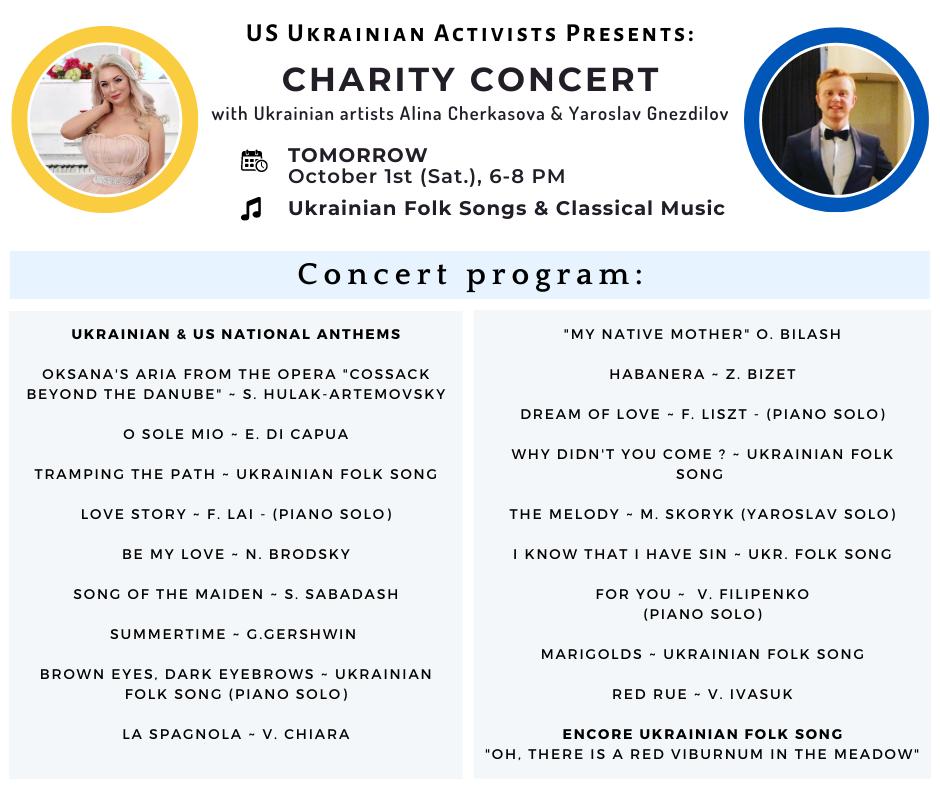 On Saturday, Oct.1, friends of Ukraine were privileged to experience an intimate concert with two brilliant Ukrainian musicians Alina Cherkasova and Yaroslav Gnezdilov.
As Russia continues its genocidal attempt to eradicate Ukraine, its people and its culture, US Ukrainian Activists (USUA) presented our 7th charity concert, held at Ukraine House, the cultural annex of the Ukrainian Embassy.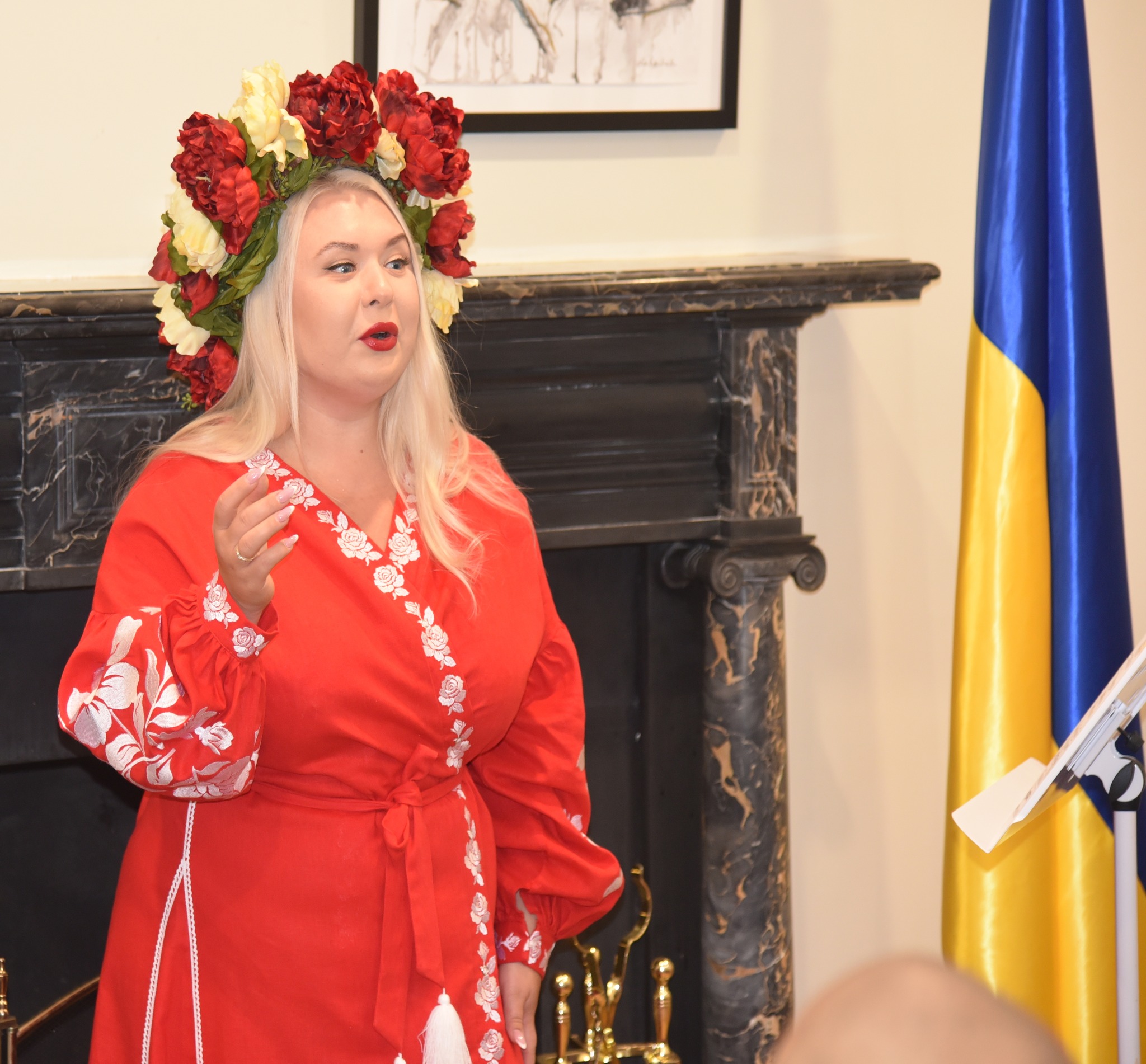 Concert proceeds:
Gross Proceeds of $14,432.80 (ticket and souvenirs sales, as well as donations) were raised at this Charitable Concert, including a generous donation of $12,000.00 for front-line paramedics Hospitallers from Yuri and Inna Deychakiwsky.
Net Concert Proceeds of $13,103.58 (after the deduction of $1,329.22 for concert expenses: air-tickets, hotel rent, reception, and Ukraine House cleaning fee) are directed the following way:
$1,103.58 to support Ukraine House's project "Nezlamni" ("Undefeated"): a prosthesis and rehabilitation program for Ukrainian children who have been injured by russian aggression;
$12,000.00 – donation for Hospitallers, used to purchase such critical medical supplies, as 545 C-A-Ts (combat application tourniquets) on Mon., Oct. 3.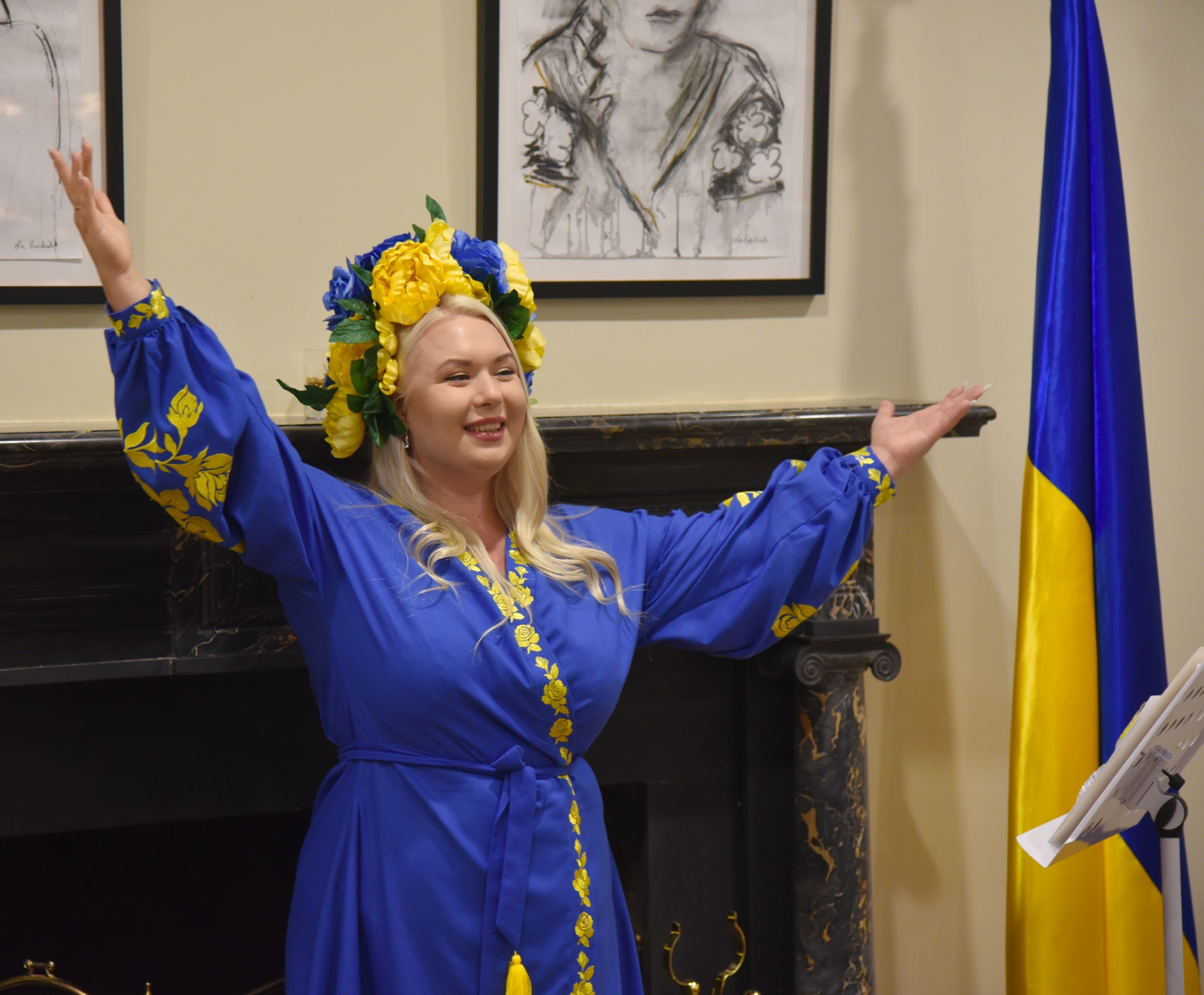 The concert featured opera singer Alina Cherkasova and pianist Yaroslav Gnezdilov, both winners of numerous international music competitions, from Dnipro, Ukraine's fourth largest city. They performed traditional Ukrainian songs and Classical pieces, and in addition featured songs by contemporary Ukrainian composers.
We are so grateful to these talented musicians for the fantastic evening of Ukrainian and Classical songs, and all their support for Ukraine!
We are very thankful to the Embassy of Ukraine (Ruslan Falkov), Her Excellency Ambassador Oksana Markarova, and Ukraine House (Marianna Falkova) for sponsoring our last three charity concerts!
Nadiya Shaporynska, president of US Ukrainian Activists, organized this Concert in support of Ukraine.
A big thanks also to the awesome team of USUA volunteers, each of whom contributed greatly to the success of this event: Luda and Sasha Draganov, Larissa Vovk, Catherine Pedersen, Maryia Alenchyk, Gleb Latnik, Nadiya Yaneva, Lora Odeyanko, Anna Ozherelyeva, Rachel Glick, Sofia Nalizhyta, Dmytro Yurchyk, Anya Thacker, Robert Harvey, Felix Tsu, and Yevgeniy Shaporynskyy!
Our sincere gratitude to the following churches for sharing our concert information:
Father Robert (Ukrainian Catholic National Shrine of the Holy Family in Washington, D.C.:
https://www.facebook.com/holyfamilyshrinenian);
Father Oleksandr (Holy Trinity Ukrainian Catholic Church in Silver Spring, MD): https://www.facebook.com/HTUCCMD);
Father Volodymyr (St. Andrew Ukrainian Orthodox Cathedral in Silver Spring, MD):
https://www.facebook.com/Saint-Andrew-Ukrainian-Orthodox-Cathedral-Washington-DC-153983737994018);
Father Vasyl (Saint Michael's Ukrainian Orthodox Church, Baltimore, MD: https://www.facebook.com/pages/Saint%20Michaels%20Ukrainian%20Orthodox%20Church/152037208143020).
Thank you very much for sharing our Event:
United Help Ukraine (https://www.facebook.com/UnitedHelpUkraine.org);
Taras Shevchenko School of Ukrainian Study / Ukrainian School DC (https://www.facebook.com/UkrainianSchoolDC).
We appreciate everyone who attended our charity concert to support Ukraine and enjoy a wonderful evening of Ukrainian culture at Ukraine House!
Eventbrite: https://Alina-Cherkasova-Charity-Concert.eventbrite.com️
FB Charity Concert Event: https://fb.me/e/5d1dGA4Nq
Article about Alina Cherkasova and Yaroslav Gnezdilov Charity Concert: https://www.ukrinform.ua/rubric-uarazom/3584059-u-vasingtoni-na-blagodijnomu-koncerti-zibrali-kosti-dla-ukraini.html
---
The concert was organized by US Ukrainian Activists (USUA) and sponsored by the Embassy of Ukraine in the USA and Ukraine House.
Follow US Ukrainian Activists:
https://www.facebook.com/US.Ukrainian.Activists
https://twitter.com/USUA_Activists
https://www.instagram.com/us.ukrainian.activists